W

hile the Atelier du Tranchet is organized and directed by Philippe de Paillette, its heart and soul are Chistophe Corthay (aka Xtof) and Christophe Algans (aka Toulouz). It is no exaggeration to say that this pair are artisan shoemakers, which certainly sets them apart in the early 21st century, where journeymen are thin on the ground. Their experience, pursuit of excellence, mastery, and passion for their craft has set them in their own domain, outside temporal and material constraints. These craftsmen bear the honour of being the last representatives of a profession that seems no longer viable, and yet lives on through such worthy exceptions.
T

rue master shoemakers are so rare that some have no compunction about circling the planet to secure their services. But in the case of the Atelier du Tranchet, this journey takes on another dimension, outside the realm of the classic bespoke shoe.

C

ertainly, one could make the trip just to worship at the altar of artisanal excellence and the preservation of age-old savoir-faire. However, in this case, it's best to leave dogma and fundamentalism behind: for these artisans, respecting tradition and the lessons of master craftsmen is more a stepping stone than an end in itself. The artisan thus becomes an artist; his masterwork becomes a masterpiece.
T

his workshop is unusual even for a bespoke shoemaker; a visitor will see at first glance that this place is anything but commonplace.
T

imid, penny-pinching, or stuffy souls should just walk right past this workshop! To fully appreciate this underground experience, well outside the norms of the classic luxury shop, you'll need an adventurous, flamboyant, or poetic spirit, and preferably a rock-and-roll attitude.
T

his mindset will help you recognize these shoemakers as the artisans/artists in leather that they are: from their shoes to their decorative leather artworks. Their "sakura" alone are worth the trip.

O

ne is highly unlikely to happen upon the Atelier du Tranchet; first of all, you would need to find yourself at the outer Northern bounds of Paris, which is—for now—still off the beaten path. But even then, you will only enter this shop if it speaks to you—and you hear the call. In fact, only by booting out preconceived notions of what shoemaking entails can you truly appreciate the shapes, patinas, colours, and even the soles of these shoes. Those who appreciate fine watches understand the importance of examining the underside of a timepiece to discover its technical elegance and poetry in movement.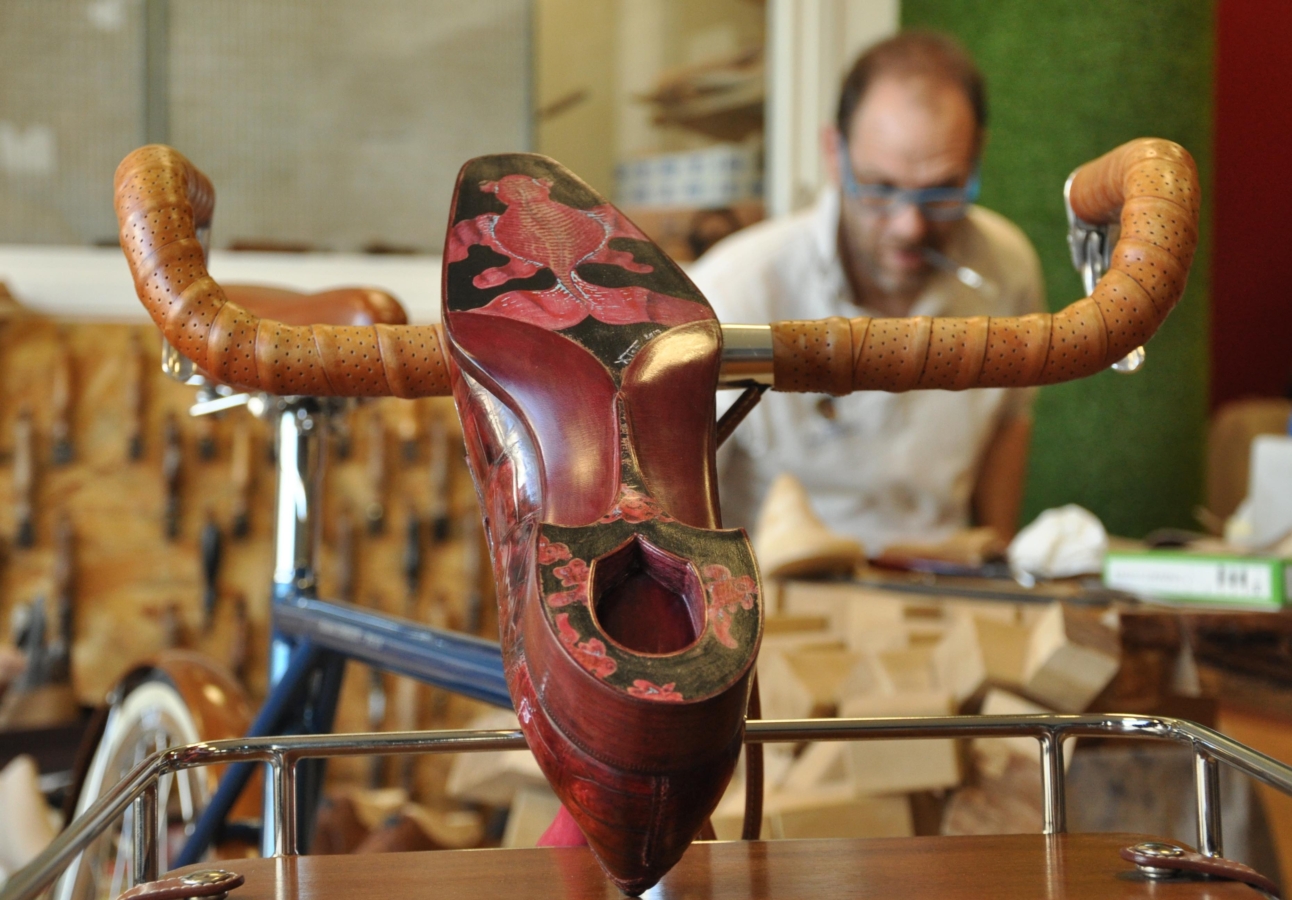 S

uch connoisseurs will also recognize that the underside of a shoe can reveal its identity as a timeless "Grande Complication" masterpiece.
W

hether box calf, python, or alligator, the most beautiful leathers take on a new dimension in this workshop: both extreme and extremely balanced. The best rock and rollers started with the classics,
and the craftsmen at Tranchet have truly mastered their classics.
Evidence #1: Darth Vader, their bespoke range.
Evidence #2: Their reinterpretation of a craft tradition—providing a perfect miniature scale model of each masterwork.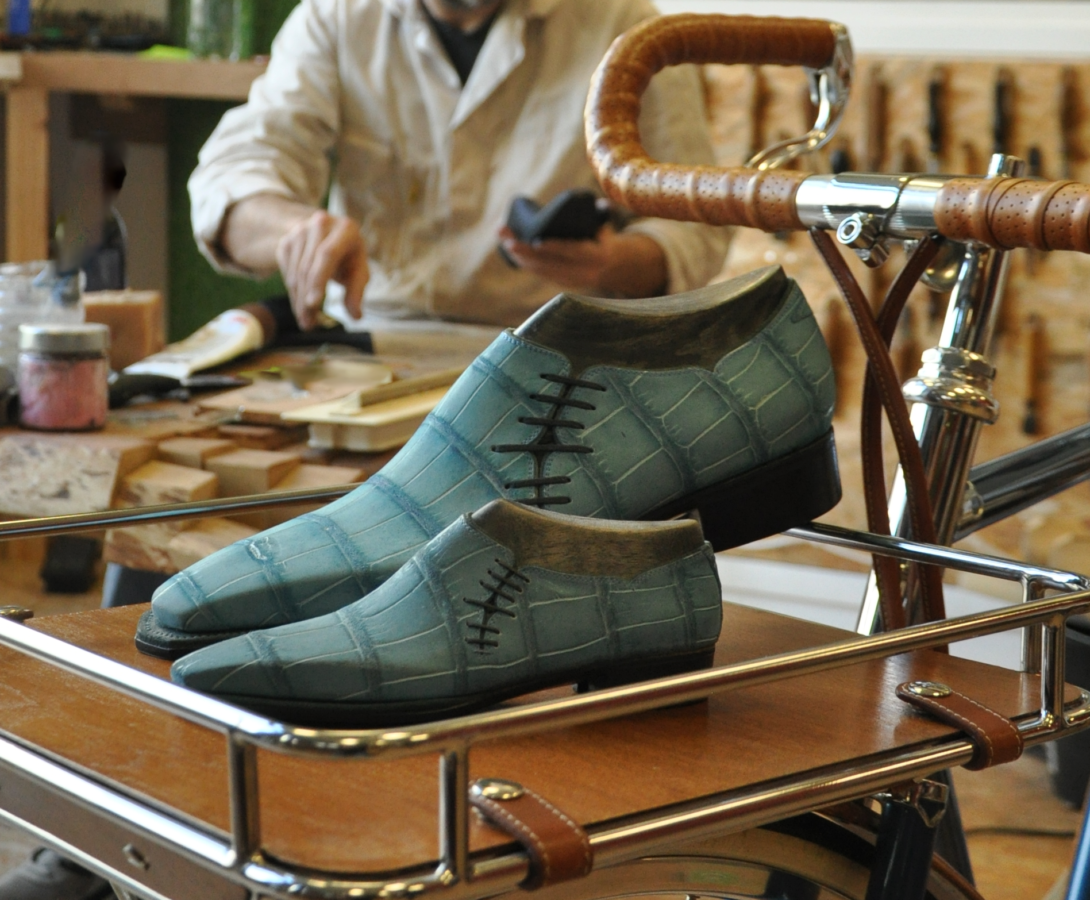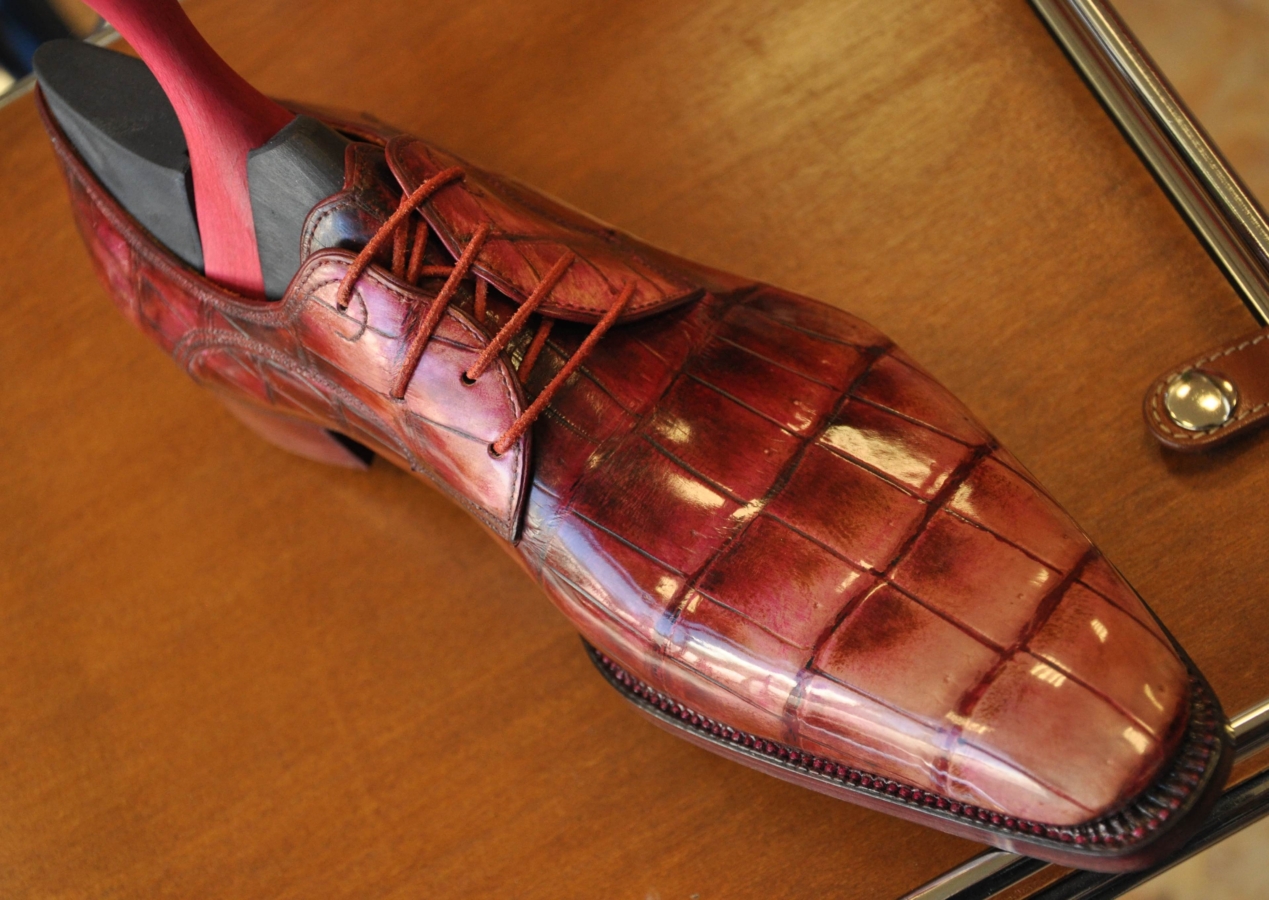 A

ll of this bears witness to an approach that is both artisanal and artistic and parallels the path taken by their customers: adventurers pursuing the exceptional and seeking to free themselves from the norm. The Tranchet men refer to themselves as "outlaw dandies." Taking the step of ordering bespoke footwear involves following their lead and accepting one's own dandyism, but a modern version, free of affectation, pretension, and neo-Romantic antics. A Tranchet dandy is the convergence of the wearer's authentic personality with the pinnacle of luxury.
I

f there were a contest for the best-kept secret in Paris, or the most carefully hidden gem, the Atelier du Tranchet would certainly be a top finisher.

J

ust one last thing: if you should happen to pass 128 Blvd. Macdonald, on foot or by bike, tell them that Maison Tamboite sent you and that you love Pauline…They'll understand!
EnregistrerEnregistrerEnregistrerEnregistrer
EnregistrerEnregistrer
EnregistrerEnregistrer
EnregistrerEnregistrer
EnregistrerEnregistrer
EnregistrerEnregistrer
EnregistrerEnregistrer
EnregistrerEnregistrer
EnregistrerEnregistrer
EnregistrerEnregistrer
EnregistrerEnregistrer
EnregistrerEnregistrerEnregistrerEnregistrer
EnregistrerEnregistrer
EnregistrerEnregistrer
EnregistrerEnregistrer
EnregistrerEnregistrer
EnregistrerEnregistrer