I hear the words of the "fou chantant", Charles Trenet, "the singing madman" as he used to call himself.
« C'est une route qui fait recette
Route des vacances
Qui traverse la Bourgogne et la Provence
Qui fait d' Paris un p'tit faubourg d'Valence
Et la banlieue d'Saint-Paul-de-Vence… »
"It's a very prosperous route
The holiday route
That crosses Burgundy and Provence
That turns Paris into a district of Valence
And a suburb of Saint-Paul-de-Vence… »
                                                                        Charles Trenet 
His song ''Nationale 7''. I feel good, ''light hearted'' as when one is soothed by the sunlight and when the road, perfectly clear, is a promise of adventure.
A canal stretches in front of me, lined with vegetation full of vitality, its waters serene. Greens are vivid, even if some trees are still waiting to adorn themselves with all their leaves. Along this water ribbon is an asphalt trail, an embankment where tall grass dances with grasses, and a sage succession of poplars. Would these be plane trees I would believe to be in the south.
I'm gratified with a holiday route… in short.
This is the first day of spring. The weather has put on its most festive costume and I escaped from Paris. My ''national road'' is little more than one meter wide and you only come across bicycles and pedestrians.
But anyway, this is actually a journey.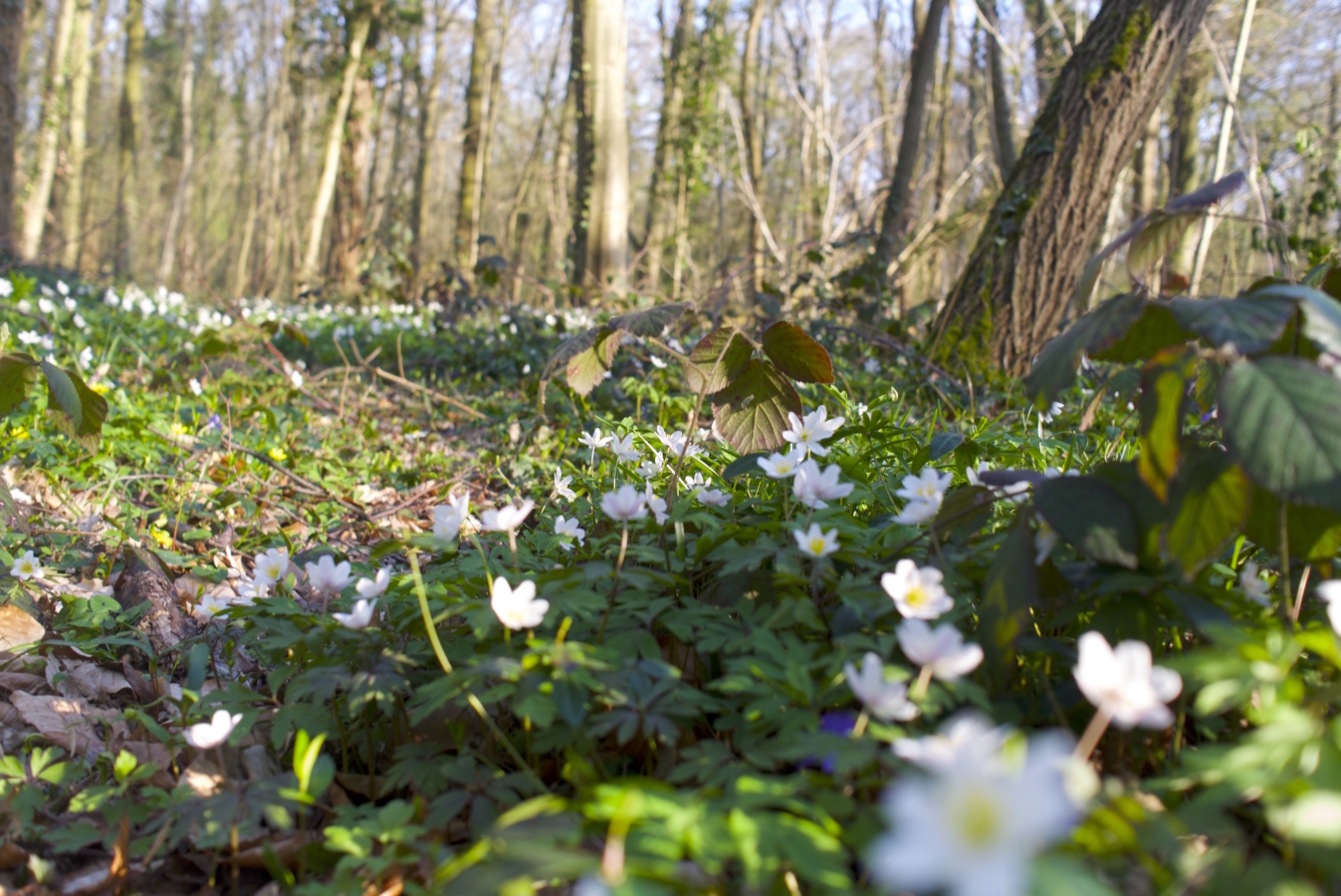 I just passed by the ''Parc de la Poudrerie'' in Sevran. How far am I from my 12th arrondissement of departure?
I have no clue and I don't really care. By now I'm so far away from the urban environment I'm coming from, and my sense of distance is bolstered by the memory of all those places I've already crossed.
Now that I'm here, let's make it a total escape. I indulge myself with a few swings in the undergrowth, on narrow dirt tracks that the rain has been sparing for some time. My ''Fauve'' allows it even if its vocation is not to replace a mountain bike.
This freedom to push the break a bit further, exploring new nifty shortcuts, adds a truly playful dimension: slalom between the trees, succession of compressions and bumps like roller coasters, I play and, as every time I grant myself this pleasure, I rejuvenate 20 years.
The ease of this ''Fauve'' has seduced me several times during the trip.
The cycle paths along the Saint Martin canal towards La Villette are full of charm but also full of surprises.
You have to deal with the traffic, many pedestrians, sometimes distracted and, in this active period of road-works, with deviations that you must guesstimate rather than properly follow. The path disappears, you must ride on sidewalks, then on a portion of paved road, jump over a huge grommet, look for directions, not to mention keeping your eyes wide open:
I'm here to enjoy myself!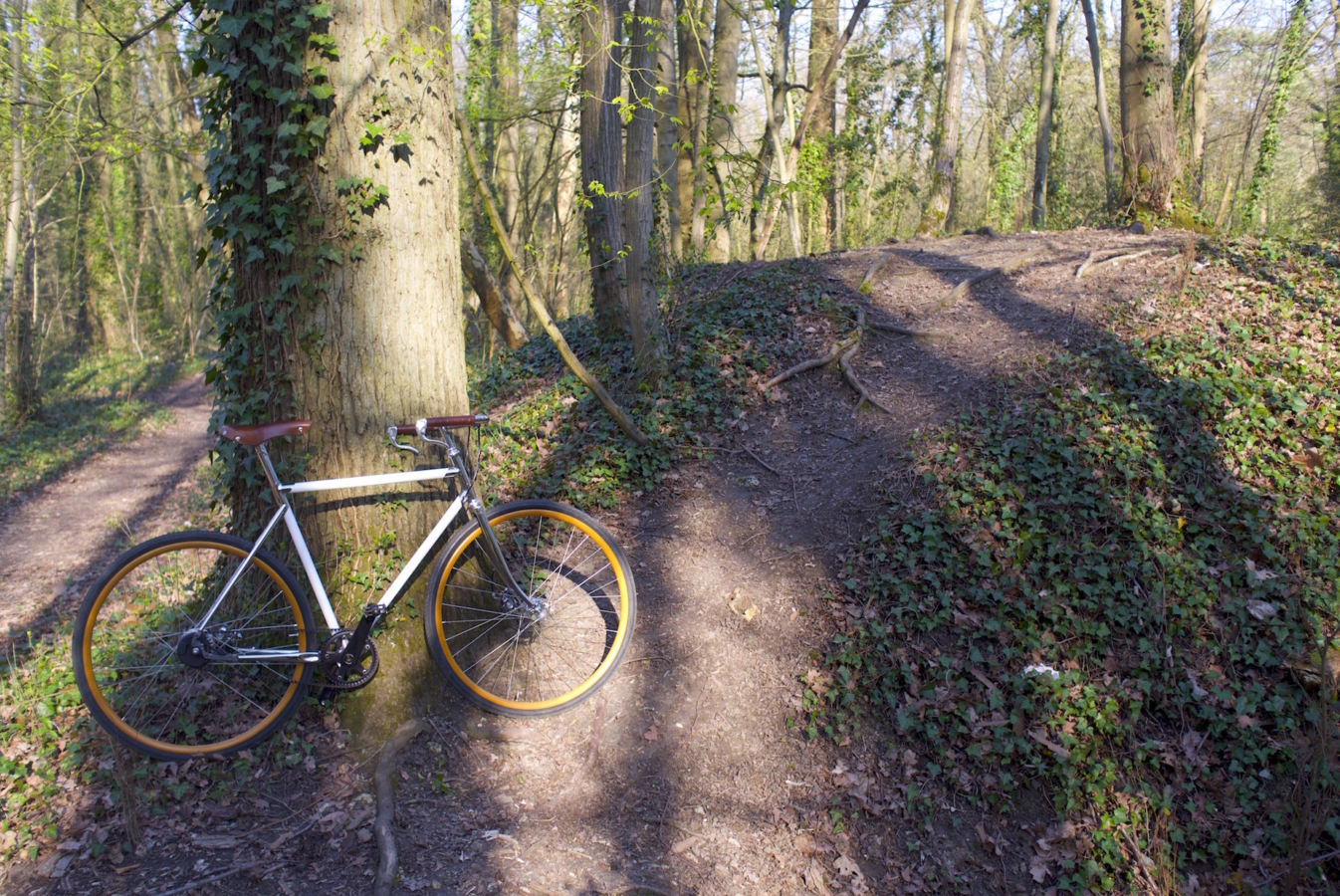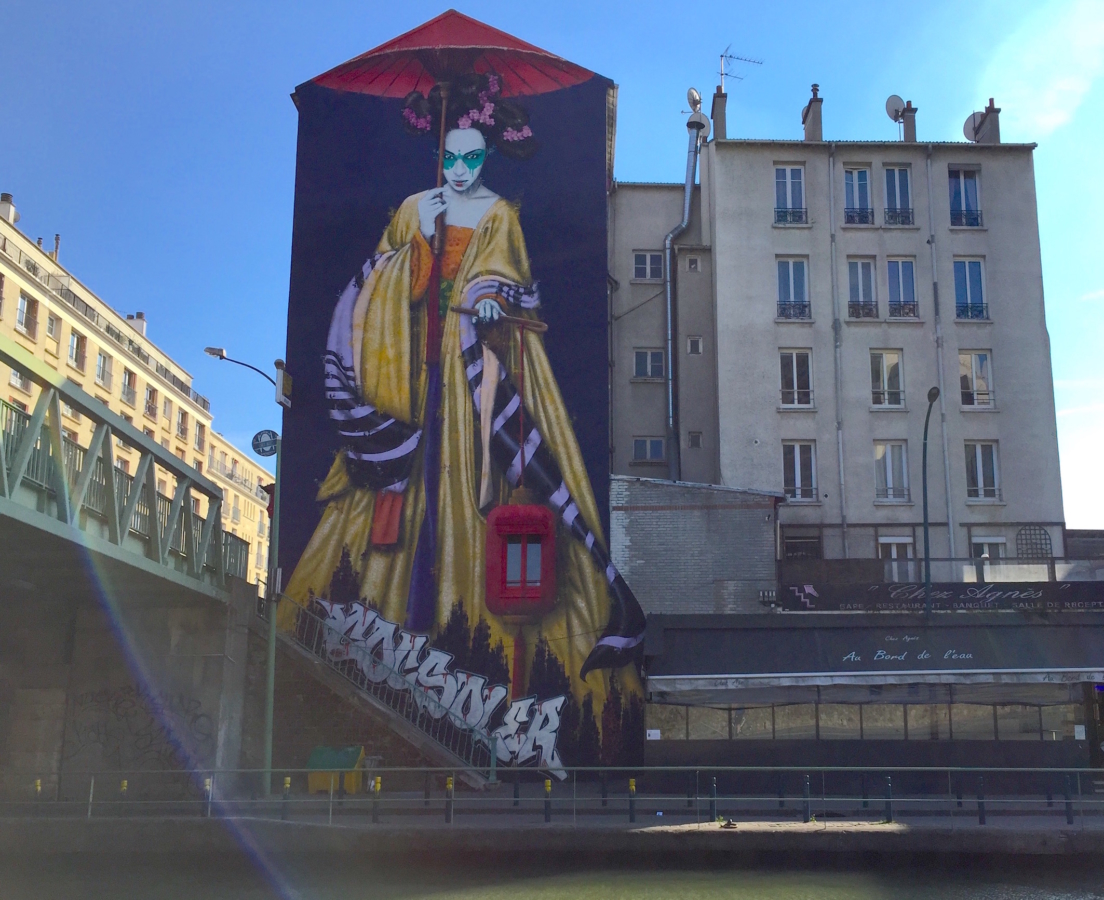 Actually, everything went well.
My ''Fauve'' has endured all these bullying without flinching, with perfect adaptability and always in the utmost silence, which is the supreme dimension of comfort.
Along the basin of La Villette, under the trees, its wheels on silica nostalgically reproduced the sizzling breath of an old gramophone. On the other side, the umbrellas of a terrace planted the atmosphere of a Riviera that would have taken up residence in the Capital. The barges succeeded the coffee terraces, the walkers were out. A touch of Japan surprised me in the bend of a road.
Sakura !
A bouquet of blooming trees brought its white sweetness in a universe that still remained very mineral. It was a way of preparing me to encounter a beautiful and disturbing Geisha, unfolding his traditional outfit all the way up the facade of a building. In a visionary "Blade Runner", skyscraper facades became advertising screens. Here it was a painting, a beautiful and monumental painting, just for the pleasure of contemplation. It introduced a course adorned with many works of Street art. 
The horizon opened shortly afterwards, and the track, following closely the thread of the water and duplicating its horizontality, presented the limitless straightness of a fast lane. How to resist the urge to accelerate?
It was exhilarating.
A few stronger pedaling strokes, the switch to a bigger gear, with a little pressure on the electronic control, and I jumped with the ''Fauve'', always flying in an undisturbed silence despites the irregularities of an asphalt scarred by protruding roots. No need to decelerate to negotiate the few turns on my path; the ''Fauve's'' vivacity is exceptional.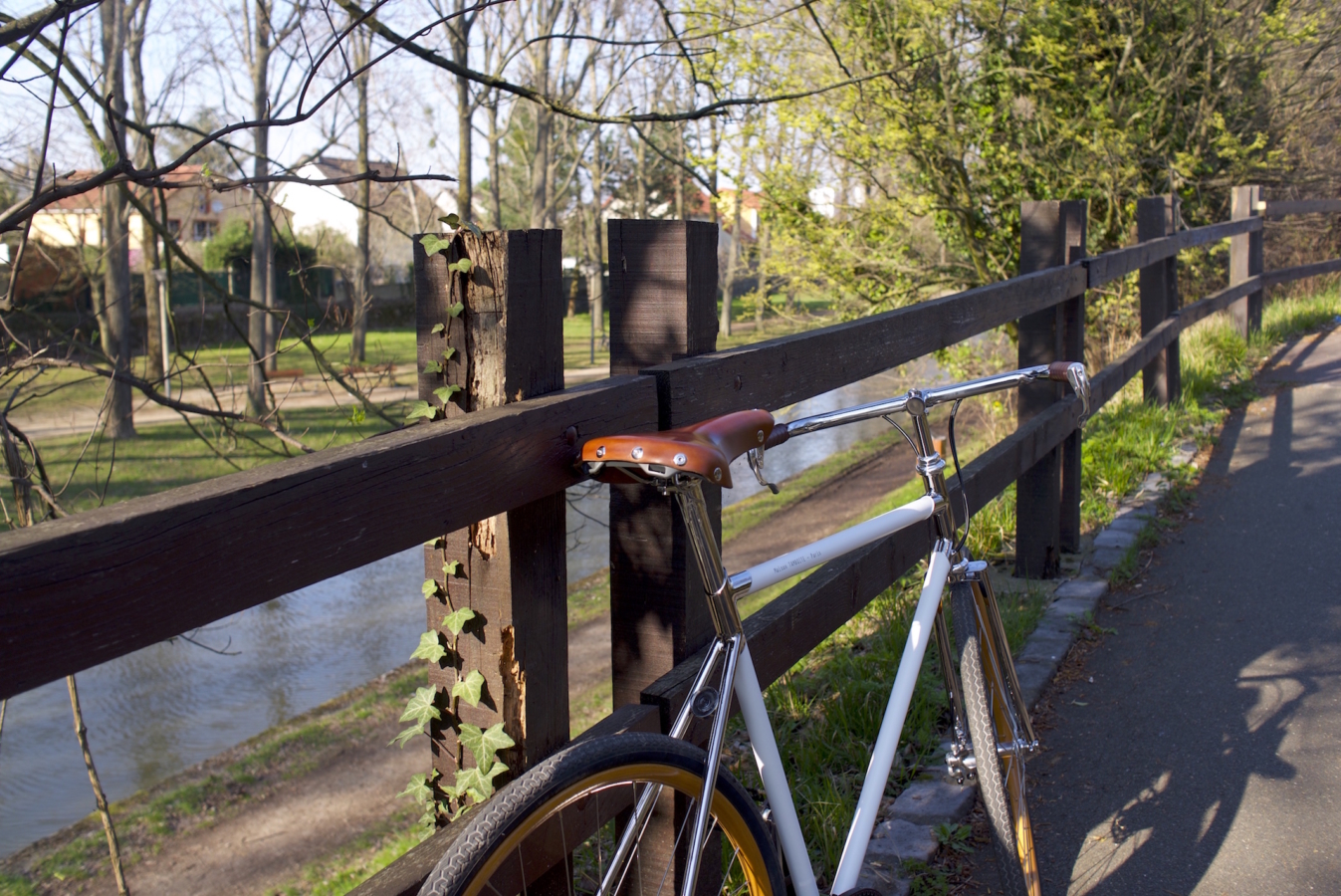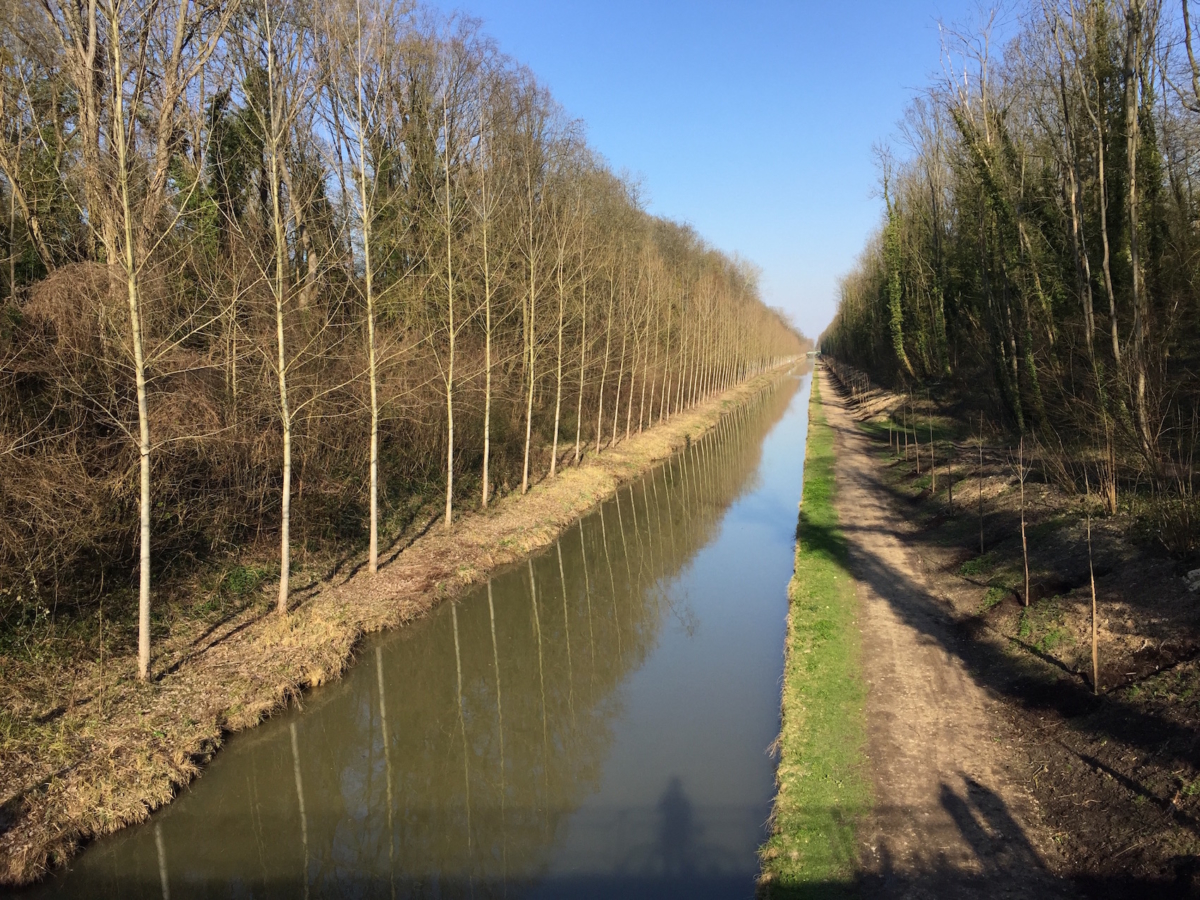 With the distance, the green gradually prevailed in the landscape, somehow inviting me to take my time. I could slow down, stop, and contemplate. Regularly, along my "nationale", signs indicated me the villages that I crossed, while giving me the distance to more far-off cities.
It must be said that this route is the E3, and as such it guides you through a good part of Europe.
Speaking about the beginning of the trip….!
I am not the only one enjoying this peace. I can see a few walkers, some cyclists like me, who take the path on the distance of their choice, or brave joggers who seem to come out of nowhere.
Beyond the courage that I recognize them, I approve their choice: what a pleasure to be in the middle of nature to develop your effort.
For my part, I note with amusement that the white flowers are really the sign of the arrival of spring. They are blossoming and really lining whole sections of the undergrowth.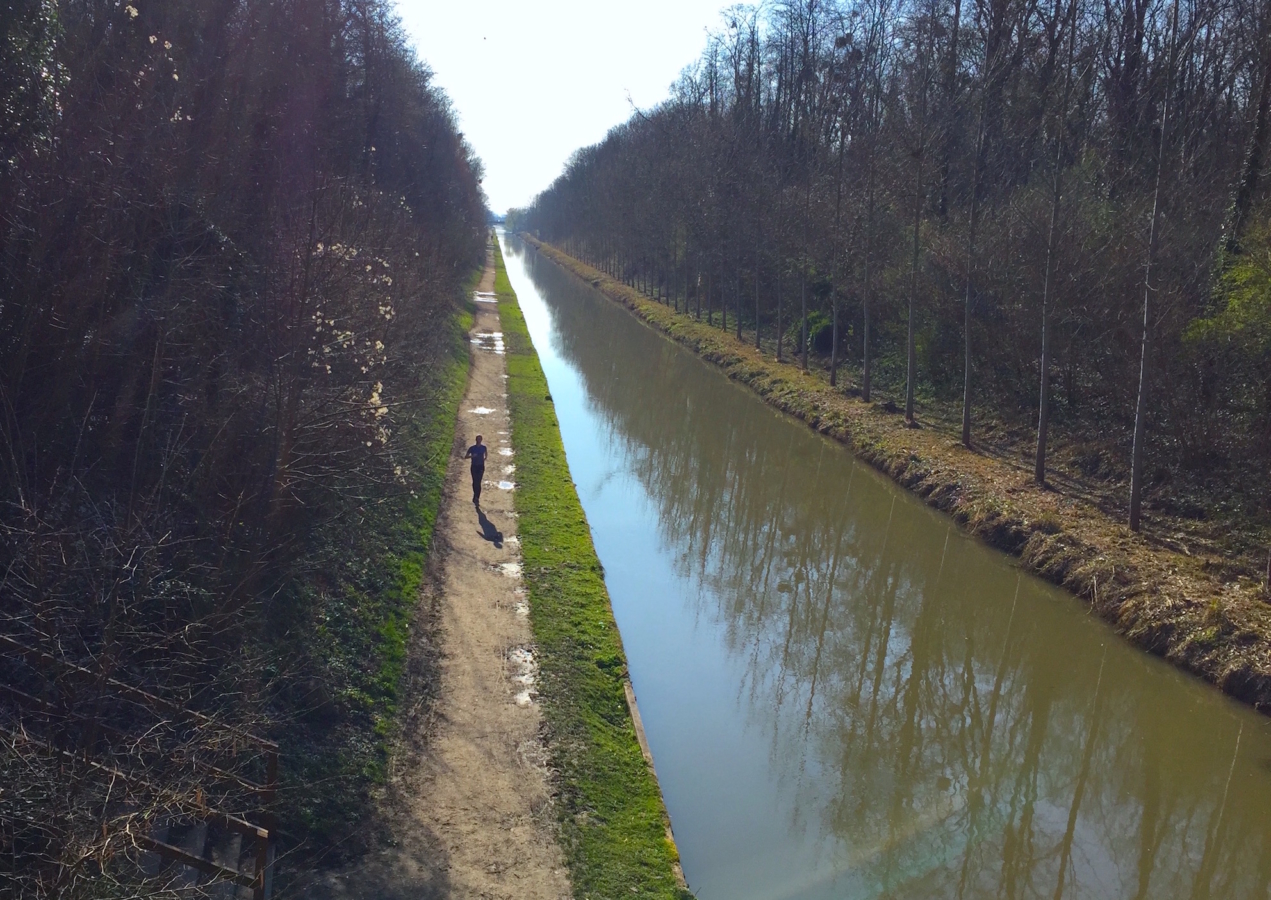 It's time to turn around and to head back to Paris by the same path as the go. No sense of déjà-vu so far. The journey is approached from another angle. I'm not any more driven by the quest to escape. I just did it.
I consciously enjoy the experience, look around with a rested eye and see that, with the declining sun, the light projects a golden hue on everything around me, as a way to magnify what will be stored in my memory among the simple hence great recollections.
Pantin looks great as I get closer. There is a real tranquility along the banks of the canal. The large width gives the place an air of a walk as much as of a village square.
It is rather appropriate since the inhabitants are obviously coming to take possession of it, for a walk as much as to meet each other. Successions of bridges span the canal. Life becomes denser. Before reentering Paris are the Grands Moulins: a kind of castle dominating in a low-rise environment.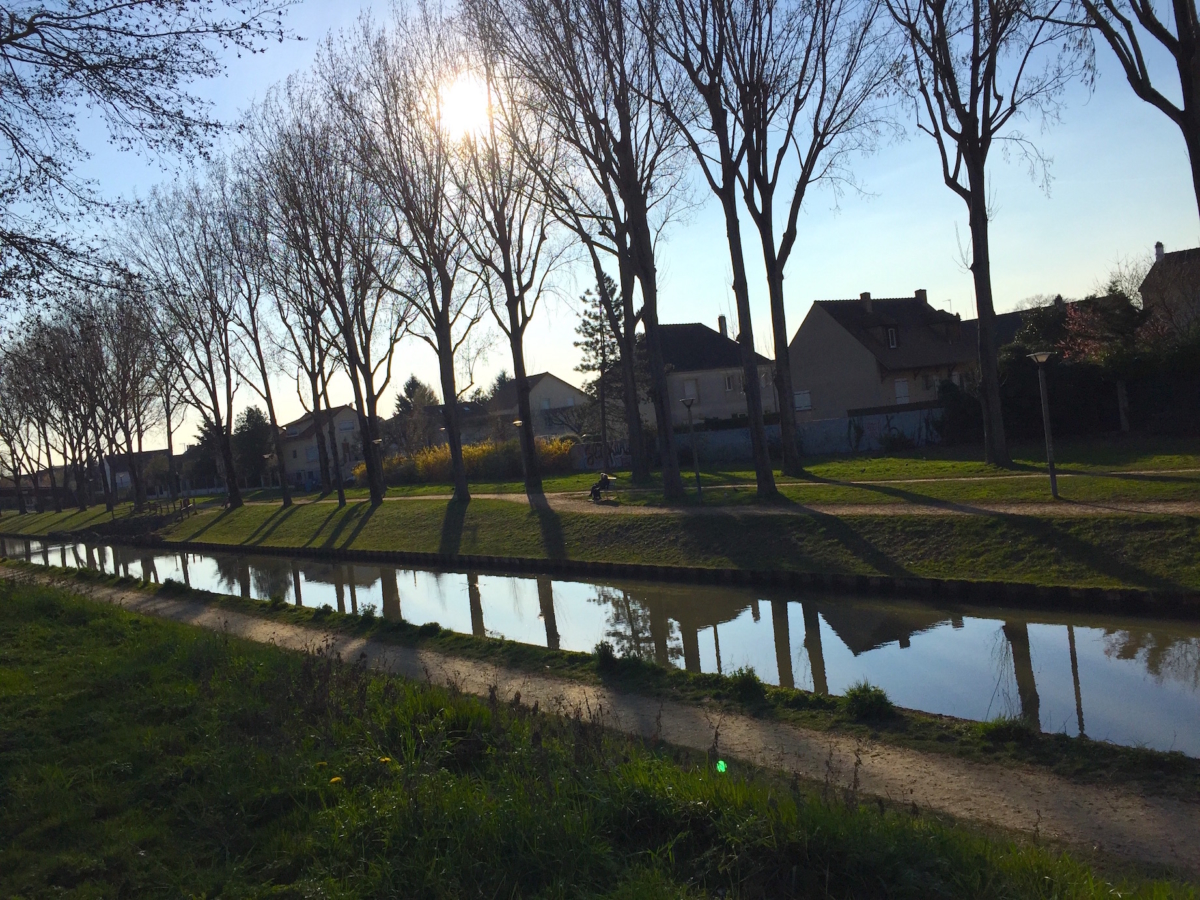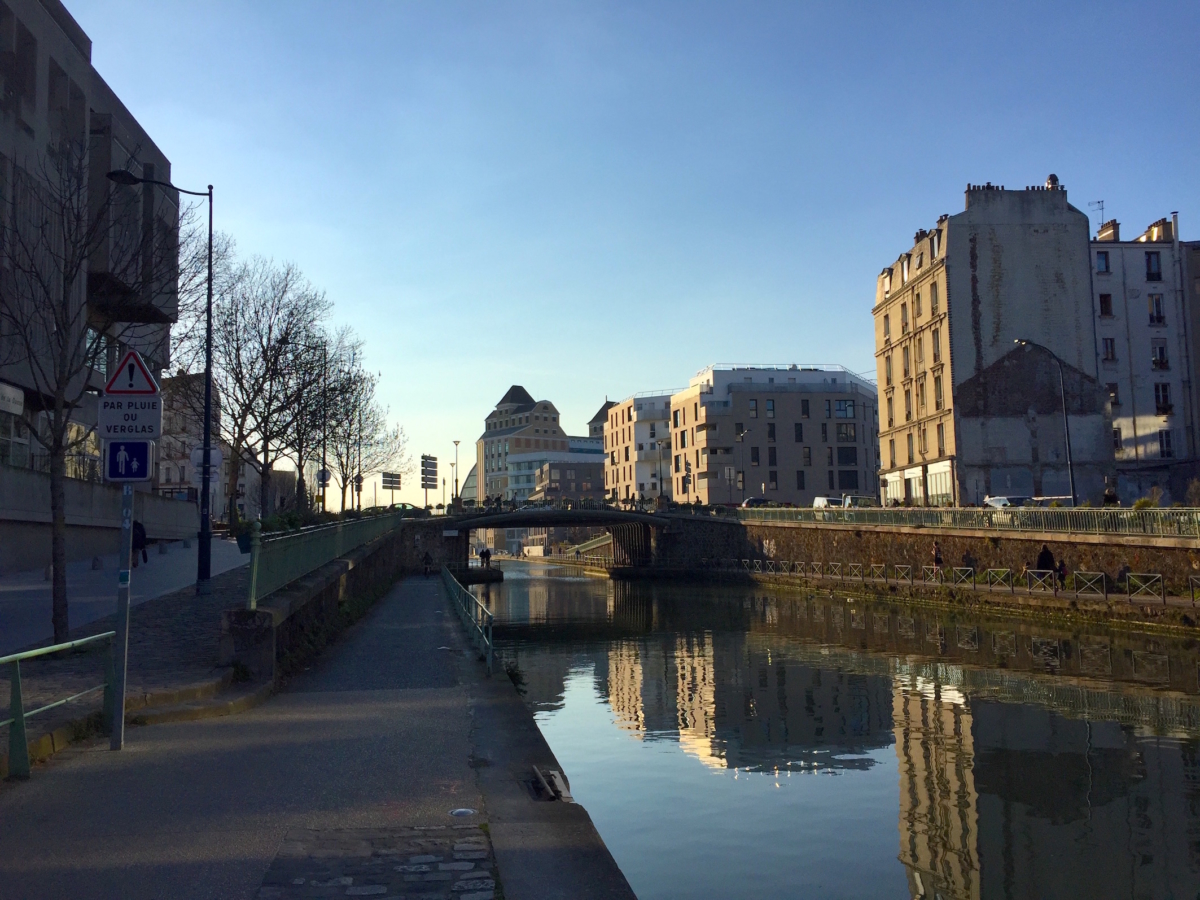 Passage under Paris ring road, entrance and crossing of the Parc de la Villette. It is necessary to be cautious because pedestrians, cyclists and obstacles multiply. At the lock, it becomes the city again, in all its activity and all its noise.
It's clear, I'm back.
A good surprise awaits me a few meters further. At the end of the basin of La Villette, the terraces and the quays are invaded by a relaxed crowd coming to share a drink in the declining light of a beautiful late afternoon. This kind of big spontaneous gathering is particularly welcoming. I let myself be tempted and decide to join them.
And there begins another journey.
Vincent Rebours