Interview with Noémie Gauthier, founder of Edmée
Edmée is the new fashion brand that is both geared toward women and encourages them to take up cycling. It's the creation of Noémie Gauthier, a talented and enthusiastic young woman who, when deciding between fashion and bicycles, made the choice… not to choose.
We had the great pleasure of asking her a few questions.
MT: Noémie, how did you come to create Edmée?
NG: My whole career history has been in fashion, as a stylist.
For 15 years I have been designing prêt-à-porter collections for women for small French fashion houses as well as major international organizations in not only France but also China and Italy, where I lived for a while.
And then, about two years ago, I rediscovered cycling. I had been working out on a regular basis, but I soon became focused solely on cycling, which became both my favourite sport and my one and only way to get around town.
Soon after that I would discover how very narrow was the range of clothing that I both really liked and that worked with my cycling practice.
MT: So, what does Edmée stand for?
NG: Above all, Edmée is a fashion brand for 21st-century women who are urban, active, independent, and elegant–and who are meeting their real needs by traveling by bicycle.
These creations bring together characteristics that favour mobility, breathability, visibility, and sometimes impermeability or at least water resistance, but they never compromise on style or femininity.
My wish is also to grow the community of women who cycle. Cycling has become an eco-friendly means of transport, but men are still in the majority of those on bikes. I thought that fashion would be a good way to encourage women to get on their bikes, and that's why I started Edmée.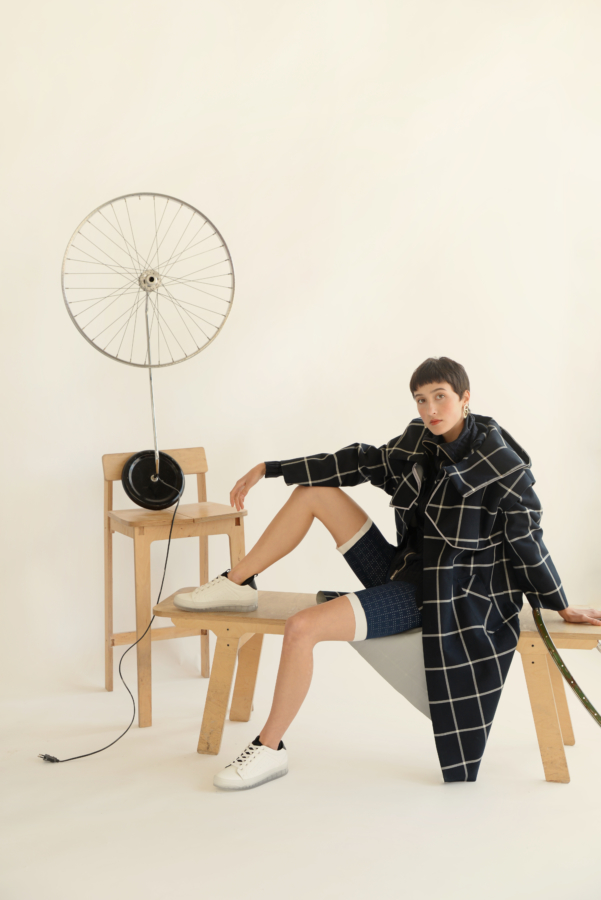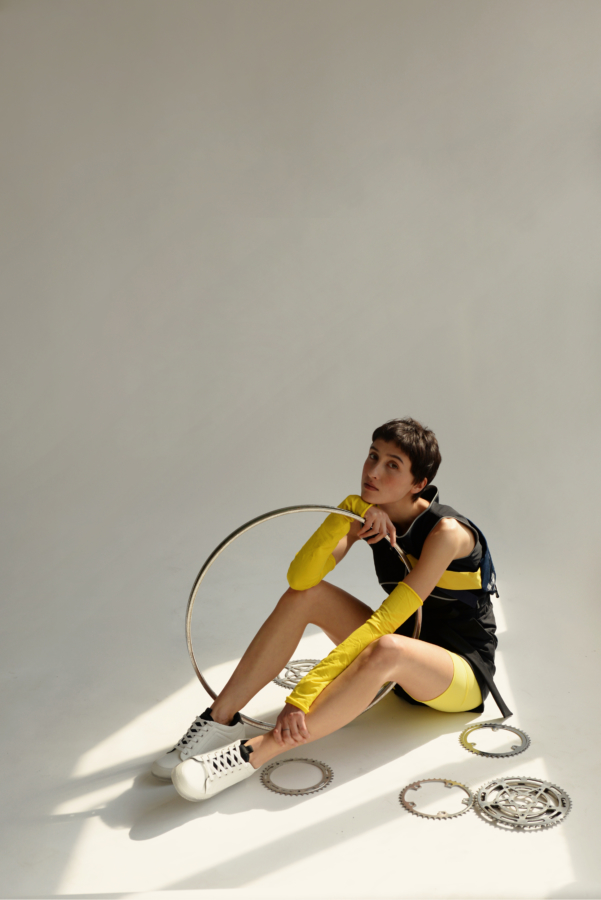 MT: Who do you see as the Edmée woman?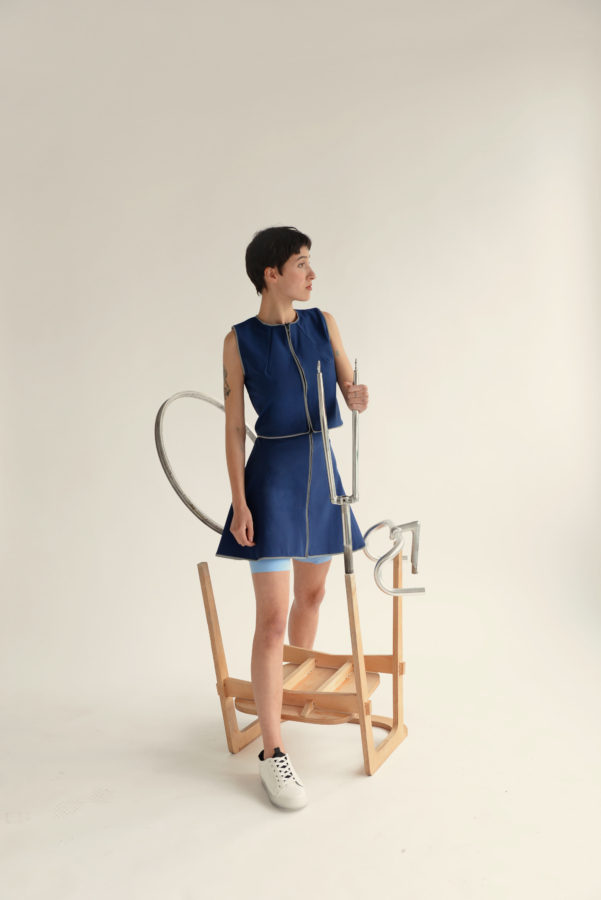 NG: I would say that the Edmée woman is first and foremost a liberated woman. Her freedom and independence are essential to the way she lives. She is curious, passionate, athletic, and intuitive. 
The Edmée woman is a visionary who is uncompromisingly feminine and creates her own dress code, which is both cosmopolitan and quotidian. In the city, she gets around by bicycle, and she is mindful of the transportation that she uses. In fact, she looks for meaning in everything she does, and, of course, in everything she buys.
She's a bold woman of her times, perfectly comfortable on her two-wheeler and just as exquisite in the saddle as when she dismounts.
MT: What's special about the Edmée collection?
NG: The very graphic lines, a very minimalist style with carefully constructed details, with lines evoking wheels and curves, often given a reflective quality.
The style pulls from certain cycling conventions like the back pocket. The tops generally have zippers, in front of course, and often have side or sleeve openings for ventilation. Some models are also adjustable or hybrid so that they can be worn just as easily on foot as on a bicycle.
That's Edmée's commitment: elegant, graphic, feminine designs made for cycling—but made so that even women who don't cycle feel the collection speaks to them.
MT: Can you briefly describe the pieces making up this first collection?
NG: This collection has about 15 pieces: an adjustable trench coat, a jumpsuit, a waterproof blouson jacket with a hood that can be adjusted to fit a helmet, a romper, a jersey dress, a waist pack, a reflective belt, and a cycling cap.
For winter, I am planning a collection with warm and waterproof pieces. This will be a real solution to the challenge of protection, especially one specific point: managing temperature. At first, it's important to be warm, but then after a few minutes, body temperature rises, so it's important not to overheat.
The whole collection can be seen on our website. Right now, for that matter, the site is the only way to acquire these pieces, although I'm planning to open pop-up shops from time to time.
MT: Where is the collection made?
NG: It's made completely in France with fabric that comes from France and Italy. For the first collection, I also worked with the idea of using bolt ends of fabric and finding ways to use remnants of beautiful fabric.
MT: Why the name Edmée?
NG: I was looking for an old French name. I first found the sound of Edmée attractive, and then I liked the look of it. It's also the first name of the first female astronomer in France. But I was completely convinced when I learned about the qualities associated with this name.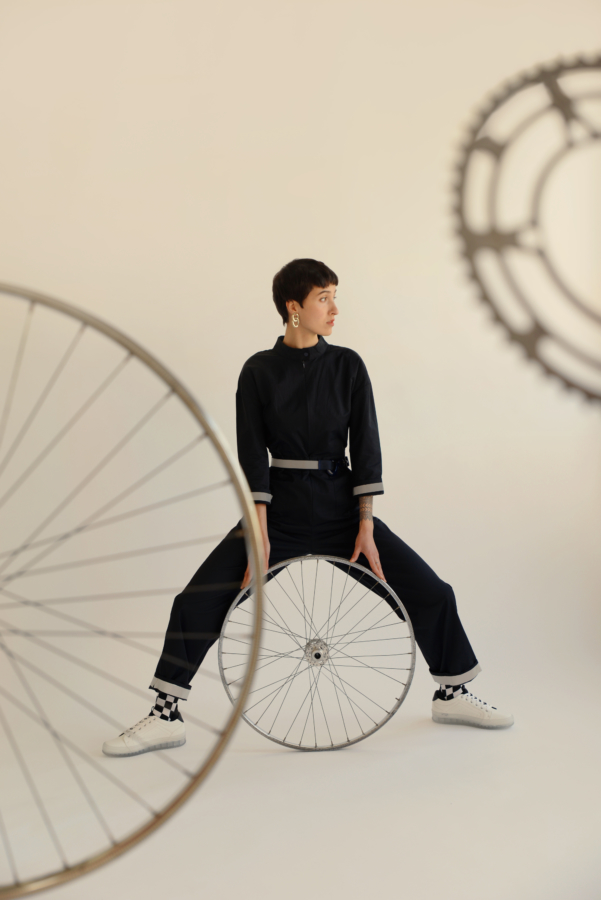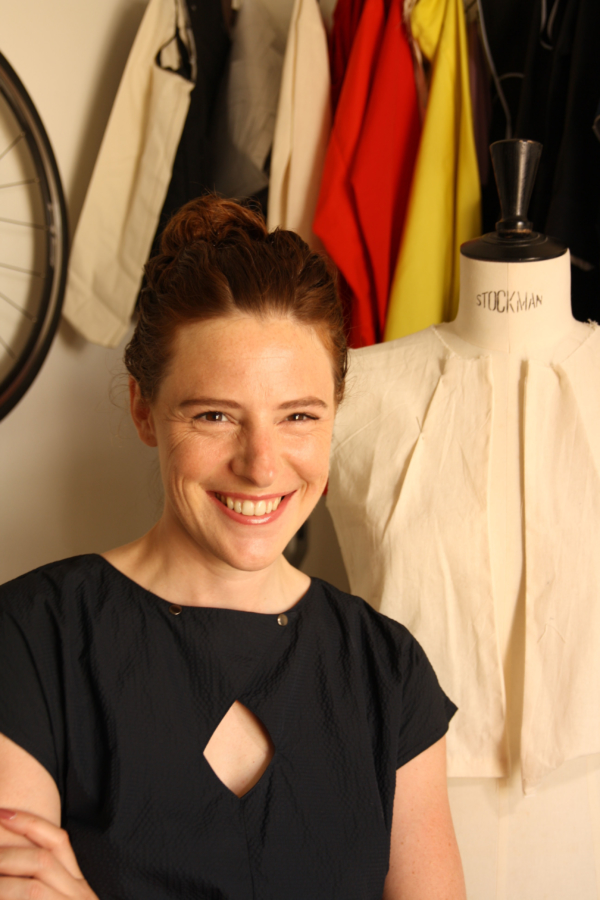 Edmée is a daring and resourceful person. She has an expansive view of everything she does, and her ambition knows no bounds. She makes her mark through her candour and cheerfulness. It's a way to give women the boost they need to take up cycling!
MT: Noémie, what is your ambition for Edmée?
NG: Succeeding at making cycling more accessible to women, since now they tend to only see the downsides: it gets your clothes dirty, it makes you sweat, there's nowhere to put your handbag…
I want to help make cycling accessible to everyone as a pleasant, healthy, and responsible means of transportation—an elegant way to get around, in other words—and make it the natural choice for 21st-century urbanites.
MT: Thank you for all of this, Noémie—we wish Edmée every success.