Independent and everywhere at home, he lays down his law. Everywhere at ease, he appropriates space as if the master of the place. Pavement or gravel, he lays down his law. He evolves silenly, grazes the ground, whizzes, in a comfort freed from any vibration. Without effort, he leaps, he goes … or he allows himself to stroll. Undergrowth or urban jungle, when the path is narrow or momentarily clogged, he sneaks with delight …. Nothing stops him. 
The Fauve is a beautiful animal
His sleek profile masks his liveliness and muscular character under a cool, laid-back appearance. Chromed and enameled coat, stocky body and wheels free of any fender, he is the essence of the bike. A frame, two wheels, a transmission, a handlebars and a saddle. An ode to freedom for the one who tames him, a magical way to go everywhere as the heart suggests. The soul of the Fauve is concentrated in a few essential parts.
Yes, but not just any …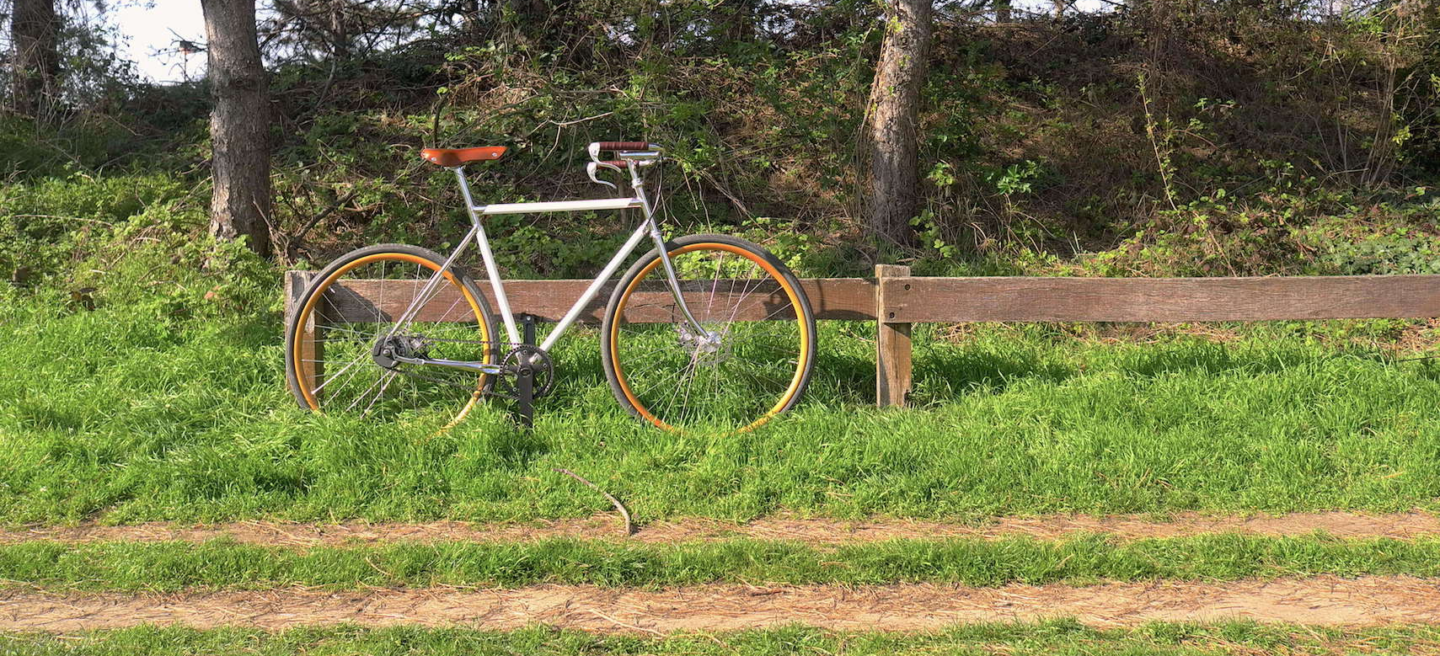 The frame is all made of contemporary steel, a long-awaited reconciliation of the eternal qualities of this material (solidity, durability, comfort) with modern technology of alloys and their implementation with varying thicknesses, to gain in lightness, and to locate rigidity just where it needs to be. And not elsewhere.
It is especially custom made, by construction adapted to your morphology and your practice. Not to forget your tastes: choose the color of your livery, dress it in addition to the finery of your choice (leather, fabrics …). Relatively short, stocky and dynamic, this frame brings liveliness in the changes of pace (one gets to like it very quickly) as in the changes of direction.
I repeat, he sneaks !
The wheels are beautiful and made of noble material. The wooden rims, laminated and perfectly curved, have the color of beech wood, between honey and fawn. A splendor magnified by a carbon soul that produces the astonishing alchemy of a dynamic wheel with unsuspected comfort. The tires, full and voluptuous, complete the efficiency of the running gear.
Silence, velvety touch, feeling of gliding without restraint … but in total control. Two disc brakes stop you with a simple pressure.
The perfect grasp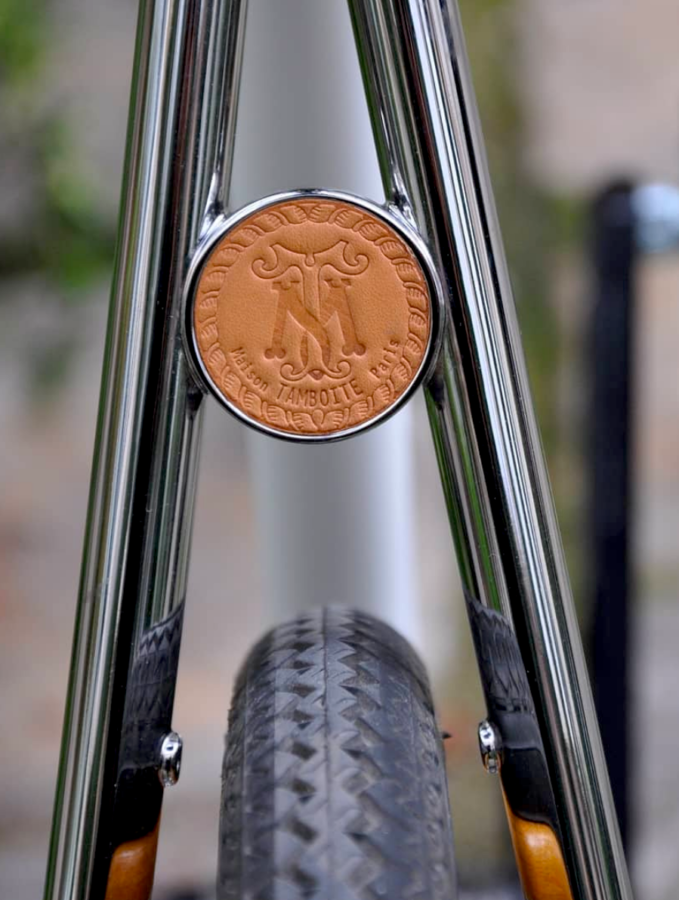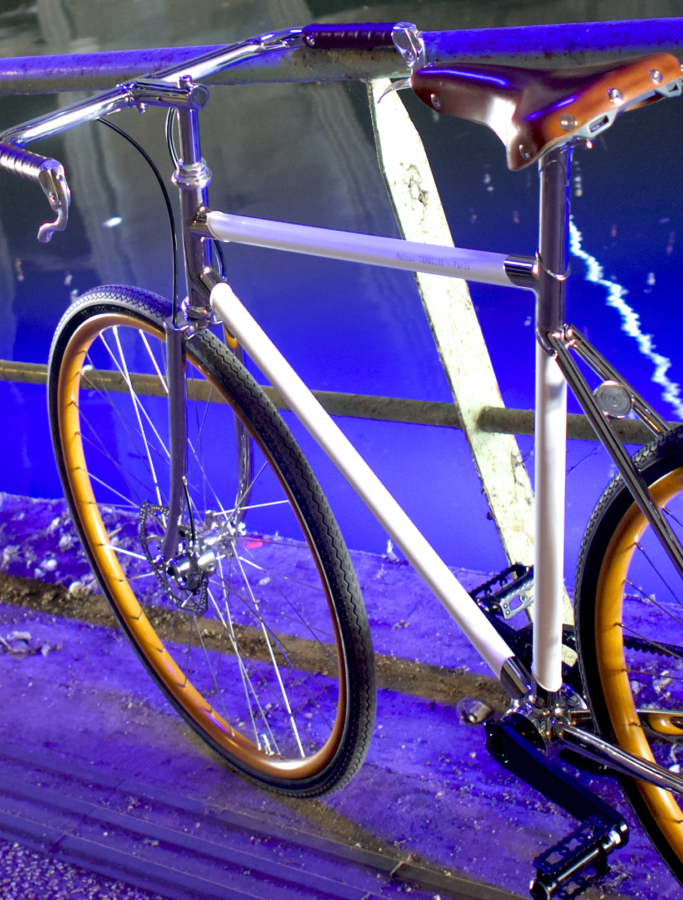 The transmission also strikes by its apparent simplicity. That which consists in always providing the proper gear ratio, in an intuitive way. Eleven speeds concealed in the rear hub, no derailleur or chain cracking at gear change, no risk of derailing. The belt here is always perfectly stretched between the crank and the rear wheel, adding efficiency to the beauty of its design, pure and simple.
To switch gear? Here is another refinement. The beautiful leather-wrapped handlebar features two small chromed buttons to shift electronically from one gear to another. A simple and gentle pressure and the operation takes place. You anticipate a variation of rhythm, a slight action of the finger and the change happens. The Fauve obeys your every move.
The Fauve cultivates autonomy and versatility. Pet when wandering uptown, it can also go wild when comes the desire to escape the city. He cultivates independence and seems to be detached from everything. But, like all cats, he comes sometimes to beg for his share of affection.
It's up to you to tame him !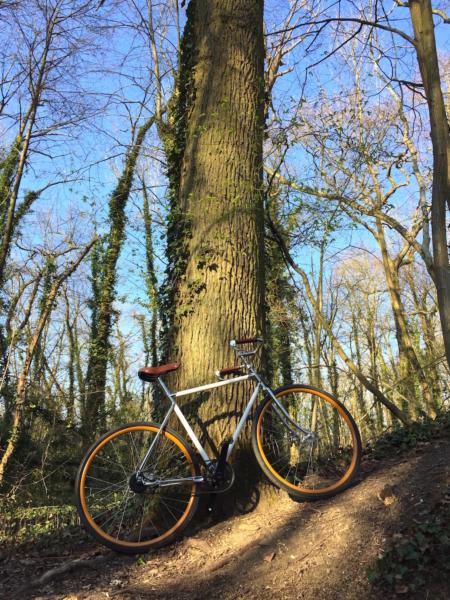 Come and discover the Fauve at Maison Tamboite Paris,
20 rue Saint Nicolas – 75012 Paris (France)..
PS: In French, ''Fauve'' refers to the global category of big wild cats (lions, tiggers, leopard..).
''Fauvism'' refers to a pictural movement of the early 20th century, named after a famous comment published by an art critic at the occasion of Fauvists first official exhibition who wrote: ''the wild cats have been let out''.
Léon Leynaud, the founder of Tamboite cycles at the beginning of the 20th century, was also a friend of painters and a painter himself. A life-changing encounter was for him Maurice de Vlaminck, a leader of the Fauvist movement he used to accompany to seek inspiration in the countryside right out of Paris. Their spirit of freedom and independance has guided us throughout the development of our Fauve.
Special edition "my tailor is chic" in collaboration with Dormeuil