Dedicated to urban use, Henri is a contemporary refresh of the Parisian porteur, a city bike that combines elegance and electric assistance better than any other.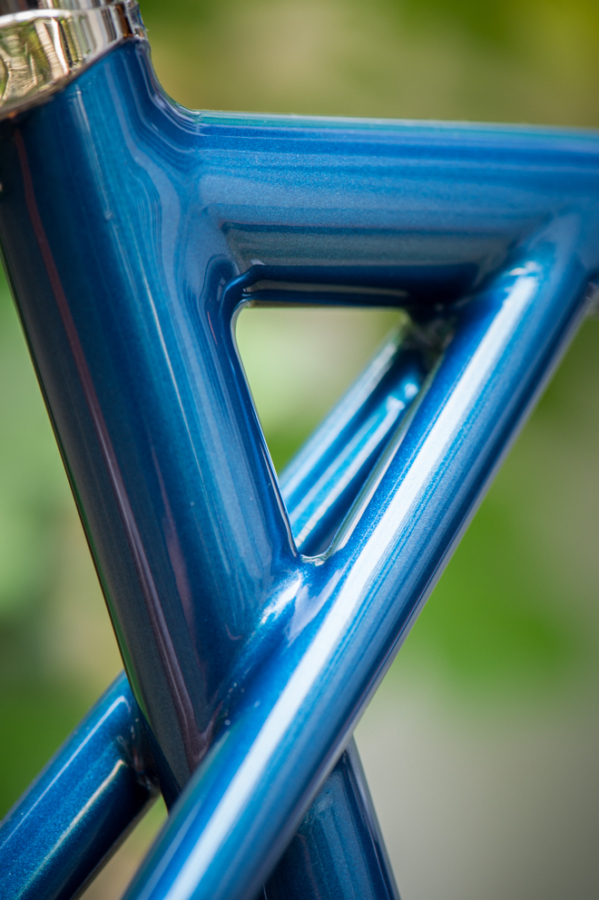 There are certain things that are just impossible to let go of. Again and again, inevitably, we come back to them, because they make us feel good, always comfortable, always right—it's that simple.
The jeans, mottled with wear, that have stretched to perfectly fit the body over time. The favourite shoes, perhaps custom-made, that have benefited from countless polishing sessions that add depth to their line. The little black dress that redraws the silhouette with a quick brushstroke and signals simple elegance. There are so many talismans that give us peace and comfort. We understand them instinctively; our addiction to these objects is as much a matter of physical adjustment (they fit like a glove), as it is timeless style (they work for any occasion) and the emotional relationship that has been built and enriched over a long shared history.
Henri belongs to this group of objects.
A distinguished city bike, custom-made like all our products, it is the first Maison Tamboite model and carries in its genes the richness of times past. Henri hearkens to the first golden age of Maison Tamboite, the mid-20th century, when the boss, Henri Leynaud, a quiet but affable personage, welcomed to his boutique all the stars of Paris who wished to order a bicycle made to measure. They came to find a durable companion for many outings, nourished by the incomparable comfort of bespoke fabrication, and perhaps also the subtle distinction of owning an "engine-free convertible." Their approach, implying a reasoned choice and commitment, took place within an era that understood the value of items built to last, that were maintained rather than replaced.
The Henri model, born in 2015, is a contemporary reinterpretation of the Parisian porteur that Henry Leynaud used to move about with confidence.
This essential city bike takes on the characteristic attributes that form its specific alchemy: a straight frame, a tray basket set on the front wheel, and an upright riding position. The frame, with its fine steel tubes and the delicacy of its chromed fittings, offers the necessary stiffness to ensure mechanical efficiency and hold the weight of a basket without buckling.
Obviously, the idea is not to be a cargo bicycle (the varnished wood and chrome of the Henri basket are meant to evoke nautical deck fittings more than a loading pallet) but to offer riders the freedom to carry whatever they see fit, or not, with serenity. Bags, backpacks, or packages set on the tray basket reside within visual range. The weight does not affect steering because the rider's hands, naturally placed on either side of the handlebars, easily keep the bicycle balanced.
Henri is a bike for every day, urban in every sense of the word, made for going to the office or the gym, doing errands…and providing a moment of pleasure between each of these routine activities.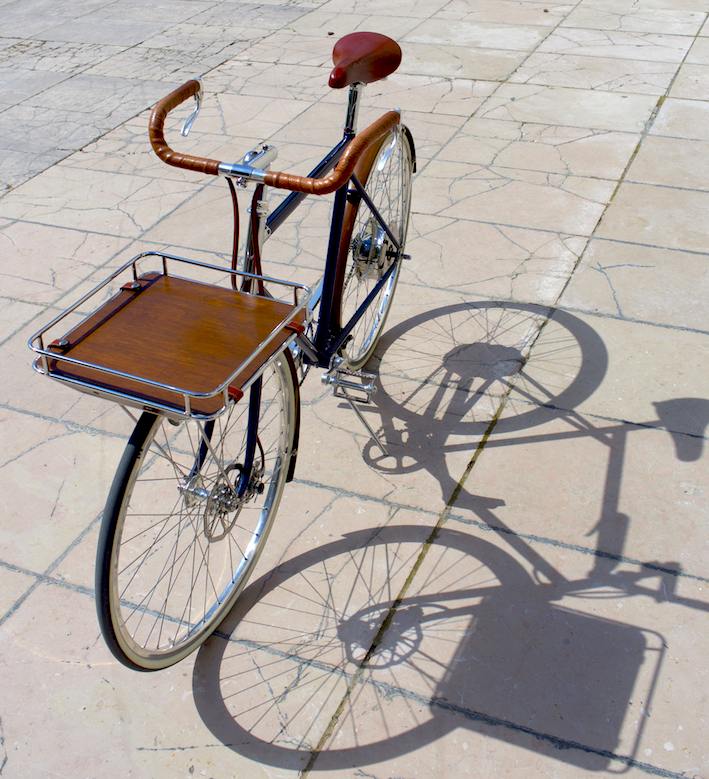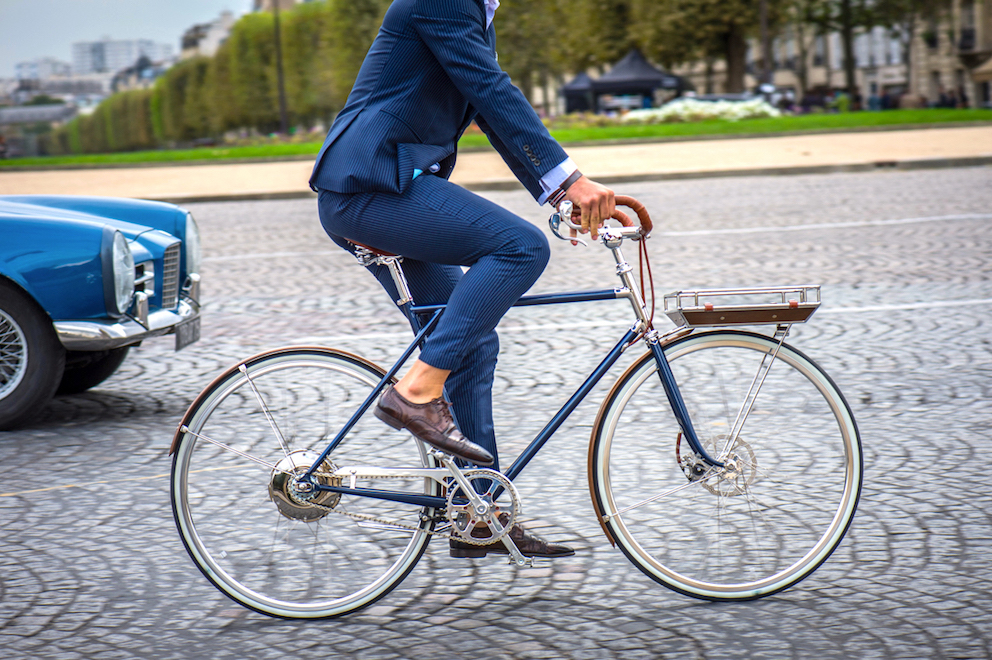 It soon becomes easy to abandon all pretexts for taking the bike and just choose to ride for the pleasure of it, not carrying anything on the basket, all the way out to country roads. Henri is always there for you; it is your transportation companion for any occasion.
This is not simply due to the bicycle's practicality. There is also the ease and posture provided by the upright position, not so different from standing upright, with both legs well placed and the comfort of a bespoke geometry.
Impeccably positioned on a custom-made Henri, you ride almost as you might walk, without needing to think, without struggling with the machine.
You can look ahead serenely, and this ease creates elegance.
Always made to order, Henri becomes a sort of bicycle alter ego for its owners, perfectly tailored to their measurements, and configured according to their preferences, aesthetic, and equipment.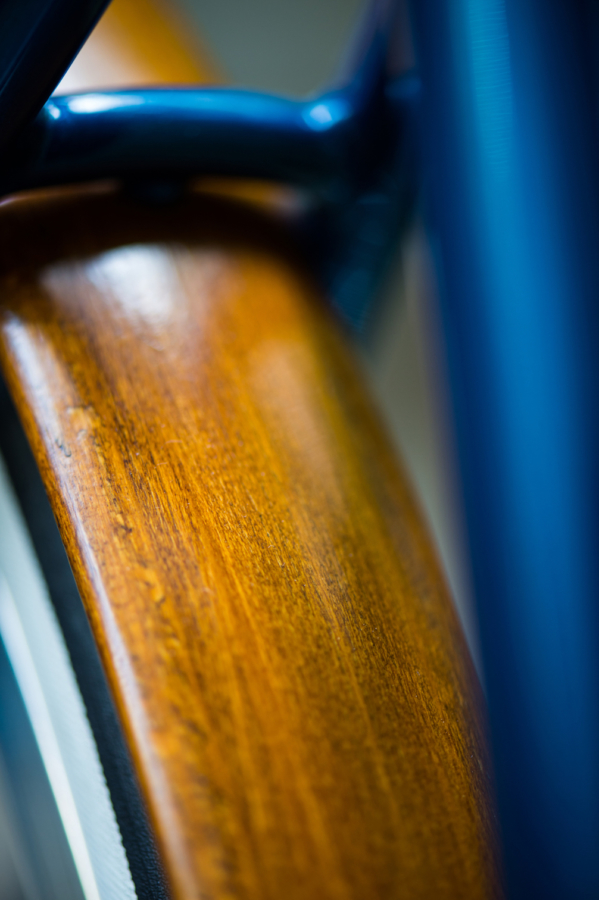 Choice of colour, always subtle, choice of leather to dress the stem and the cables, choice of tint of the patina and varnish: each customer can express themselves, even through the selection of a transmission mode that matches their cycling practices. This could mean automatic gear shifting, which is closest to the one-speed bicycle of yore. It could be the 11-speed system that anticipates outings on steep slopes. It could also be the rechargeable hybrid electric assistance system, whose visual discretion alludes to its light weight (both motor and battery contained within the chromed rear hub). This allows Henri to be an electric city bike with the normal weight of an unassisted city bike.
This bicycle is first perceived as a magnificent object, refined and timeless, that provides pleasure simply through the admiration. But the measure of its distinction is above all in its use, as it rolls along in symbiosis with its owner, proving that above all, it is an amazing passport to freedom: the freedom to move about in all situations while respecting others and the self in complete elegance.